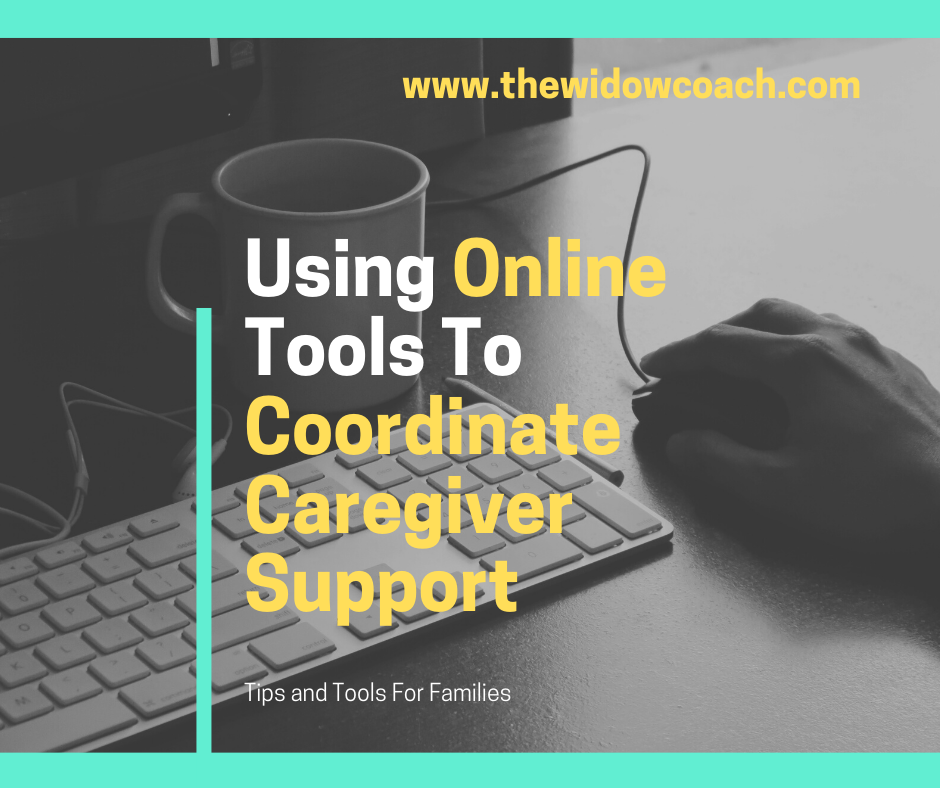 28 Feb

Choosing the Right Tool to Coordinate Care and Offers of Help

~Maggie Moore, The Widow Coach™ www.thewidowcoach.com

One of the challenges we face in our modern, segmented world is coordinating care in a crisis. Our modern mobility often means that extended family may not be close or may be challenged with managing their own lives. Coordinating care of a family member who is aging, dealing with a health condition, or a widowed family member, can be very challenging.

Further, the bombardment of information we receive from multiple sources (news, online sources, email subscriptions, text messages, phone "push" notifications) make it difficult to communicate and coordinate care needs across groups.

When my husband was killed in a car accident, our world detonated.   I was overwhelmed with my own grief and caring for my young son. I know from my own world, one of the best things I did was to take, and use, electronic care coordination tools to leverage the individuals and communities who offer to help.

The second best thing is this: ACCEPT HELP BEFORE YOU THINK YOU NEED IT. The truth is that caregiving is a stressful experience, but it is often insidiously so: our world contracts at the edges and before we know it, we are exhausted and facing challenges that have crept in when we weren't looking.

Here are some tools and tips that can assist with the process.

Step 1: Assess What YOU and Your Loved Ones Need

Before you select a tool, assess your needs:

1-Take inventory, both of your communities to coordinate (family, friends or community organizations) and needs (transportation? Meals? Wellness checks? Medication? Daily activities?).  Are there any pieces of information that need to be disseminated (food allergies for meal delivery, for example)?

2-Next consider the calendar of upcoming events: next three, six, or nine months of seasonal needs (Lawn care? Snow shoveling?) and upcoming one-time events (anniversaries? family get-togethers?)

3-Determine your partners-who will you need to coordinate with: just family members (an app might bet the best option) or broader communities (a web-based solution might work best here).

4-Finally, determine who will update and manage the app and publicize that it is available-will it be a single person, or a group of people?

Step 2: Decide if a Mobile App or a Website-Based Option is Right For You and Your Care Network

Once you have that information, you can look at options: mobile apps or websites

Mobile Apps

Shared Apps: Given the huge number of apps out there, it can be an advantage, or a disadvantage to use an app. Apps allow the functionality of being able to "push" messages directly to helper's cell phones, which is a distinct advantage. Plus, not all apps are available for all platforms (since this change daily, be sure to double-check my information below-new versions are being released all the time!)

However, getting someone to look at an app on a regular basis once the immediate crisis has passed requires a change of habit for the user, and that can be a challenge, particularly if it is a community member who is stretched and helping on a limited-time basis. I have found that apps work best with shared family groups or those who interact regularly with the person needing care. They help to support an existing relationship, not necessarily create one.  They only flourish where community is created around the caregiving activity. Be sure you review the privacy policy on the app-some of the information that is shared can be of value.

Step 3: Evaluate and Choose Your Solution

There is no "perfect" solution for everyone.   The right solution is one that everyone will use, that will help organize your information and communicate effectively. Below please find a few examples of app-and web-based solutions with my "pro" and "con" list. Please keep in mind that all information is current as of the publication of this, but enhancements are rolled out all the time in the tech field. Please do your due diligence and choose the right solution for you.

App-Based Tools:

Some example of caregiving apps
AARP Caregiving
This app comes from AARP and is oriented toward caring for an aging parent or loved one.
Versions: Android and iPhone, free
Pros: allows monitoring of symptoms, care coordination with both family and caregivers, appointment tracking, medication tracking and a general help center.
Cons: There are some systemic issues with this app, and it doesn't integrate easily with other systems and calendars.
Care Zone:
This app bills itself as an organizer of your health information, integrating medication, allergies, insurance and ID cards.
Versions: Android and iPhone, free
Pros: Care Profile (for loved one receiving care, insurance cards, vital sign tracker), Helper features (invitation function, sharable/assignable task list, appointment tracker, sharable journal broadcast feature to send a voice message, file storage and sharing features), medication list, contact list, photo and file storage, sharing feature in the event of an emergency with a family member, medication management features (take photo of a medication for auto-load to the app, refill reminders, dosage reminders, printable mediation schedule that can be shared with a doctor via email)
Cons: The company makes the case that information stays private, but there is a risk to all of this being in one place in the event of a phone operating system hack, or loss of a device even if the app is secure.
Alzheimer's Care Buddy
Versions: Android and iPhone, free
This app was developed by the Alzheimer's Association and was intended to help caregivers.
Pros: tools for caregivers to manage stress, deal with family conflict, reach a 27/7 helpline, daily care tips for ADLs (hygiene and meal time), situation management like hallucinations or aggression, and mind/body stimulation activities to combat dementia
Cons: Generally, well-reviewed-but this app also does not integrate with outside calendars well-yet!
Balance: For Alzheimer's Caregivers
Versions: iPhone only, paid ($.99)
This app is not created by the Alzheimer's Association, but is geared toward those who are caregiving for someone with the disease
Pros: works with the scheduling features in your iPhone (but with specialized categories for Alzheimer's caregivers, specialized medication tracking features (dosage, start/refill dates), disease reference information, caregiving advice, "diary" feature for logging symptoms and questions for future doctor visits
Cons: No Android version, no shareable "to-do" list for care coordination across groups, no contact list
Carely
Versions: Android and iPhone, free
Pros: Social network approach to care (can share photos, message, post questions/comments); visit management (plan/report out on visits with loved ones); outside caregiver communication (share care information, communicate with teams, ability to control information shared with caregivers), Health Insurance Portability and Accountability Act (HIPAA), compliant.
Cons: Calendar management to hold and restrict visits (such as a during a PT visit) is not intuitive on the app. Does not provide as many tools for caregiver support as other apps do.
Dementia Caregiver Solutions
Versions: iPhone and Android, paid ($4.99)
Pros: Angela Gentile and Karen Tyrell, Aging experts and author, distill their expertise in this app, you can mark articles for future reading
Cons: Strictly reference articles, no audio/video content, no functionality to share, priced higher than Elder 411 (available until 2018), which has those features.
RX Personal Caregiver
Versions: iPhone only, paid ($.9.99, free trial available)
Pros: focused medication support (dose tracking, refills, missed dosage instructions), information on over 15,000 drugs, recalled drug alerts issued by the FDA
Cons: Medication management is all it does, so it does not work for caregivers by itself. We suggest you check how often it is updated
Website-Based Care Coordination Tools:
Take Them A Meal: This is a free website (takethemameal.com) to help coordinate meals is a favorite recommendation of mine. The app is simple to use and can help coordinate external community groups with coordinating meals and limited care. A plus here is that if a person wants to contribute but does not have cooking skills or desire to do so, the website allows you to "purchase" meals to deliver to the person in need.
Pros: Ease of use, meal purchase option, website sends out automatic invitations, or a web link can be shared to a group, website contains meal ideas as well, reminder emails for those delivering meals
Cons: Limited options-really designed to do just one thing (meal delivery schedules), but they do it well!
CaringBridge.com
Pros: Easy user interface to set up a website quickly and distribute a link, update management (notifies of new post, others can update for you), established links to donation pages
Cons: Care options are not as robust compared to carecalendar, there are occasional requests for donations to this non-profit, personal fundraising page is linked to Go Fund Me™ which takes a high percentage of donations versus other options, "Tribute" donations are confusing (these go to Caringbridge and NOT the affected individual)
Carecalendar.org. While not as easy to use and set up, this is a more full-function website that allows people needing care to interact with people helping in the areas of meals, errands, tasks, lawncare etc. When I was widowed, we used this very successfully to help coordinate the friends and community groups that were kind enough to assist us, and willing to assist with care-my son's scout troops who helped us with lawn care, the school and community organizations that helped with meals and tasks. While free, this is a donor-supported effort by a family and I encourage families that can assist them with a donation, please do so.
Pros: Robust areas to set up, allows 2-way communication between those receiving and giving care, status updates, calendar modifications
Cons: Not as user friendly as some of the apps out there and typically requires someone to assist the person receiving care with site maintenance, but the features are well worth it!
Step 4: Implement Your Solution and Roll it Out to Family, Friends and Caregivers
While it might be tempting to put EVERYTHING in the app or website going back to when the situation started, consider that it might just be too much to handle if there is a long or complicated history.  You might consider starting "where you are" in the care cycle and assessing your current needs going forward.
Another way to approach this is to work with a "born organized" family member or friend and have them get the app or website up and running in partnership with you, allowing you to concentrate on managing the caregiving process. This is a strategy we use very successfully with my clients and allows friends and family to assist in a very meaningful way in the care process.   This has often proved to be a great option for someone in the immediate family or close friends to work on the project remotely and using a platform like Zoom ® (free for short calls), What's App®, Google Meet®, other conferencing services or conference calls to get the solution up and running.
As always, the best solution is the one you choose, that allows you to securely, safely and in an organized fashion, coordinate care for others or assistance for yourself.
Do you have a favorite care coordination tool? Let us know.
Maggie Moore, The Widow Coach™
______________
About the author: Maggie Moore, The Widow Coach™ is a Certified Grief Recovery Method Specialist™, Widow, and Coach. She specializes in taking clients from "desolation to transformation" via her Widowed Navigator™ system, teaches a full suite of grief recovery classes, is a sought-after speaker for groups and professional certification, and consults with businesses affected by loss. You can reach her at maggie@thewidowcoach.com