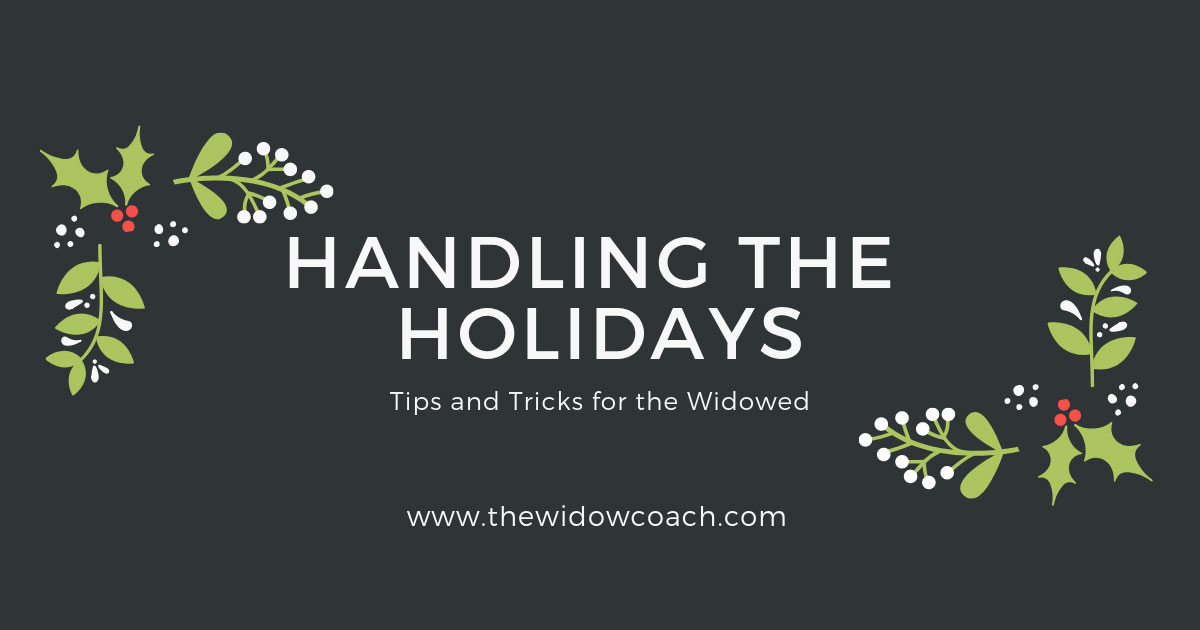 17 Mar

Handling the Holidays

Coping With The Holidays…Practical Tips for the Widow and Widower

Handling the holidays can prove to be a real challenge for widowed.  We are confronted by images of happy, intact couples and families and also dealing with the fact that our traditions are forever changed by the passing of our spouse.   Sometimes it's the first, daunting, holiday without our spouse.   However, there are some things you can do to get through, and even have good feelings during, the holidays.

Before things begin…

~Decide what you want and need Before you get into the swing of the holidays.  Quietly consider what is right for you and your loved ones.   Was the holiday something you shared with your spouse?  Do you feel you would draw energy from the events, or are you overwhelmed at the very thought of celebrations?   Do you feel that you need to do something for your children?  What does your spiritual tradition say about this time? 

~Make sure your Stress Management Plan is in Place before you Step Out In my classes and my coaching, I teach the importance of a plan to handle grief and stress triggers.   Do you know what your comforting activities and people are?  Have you identified your "watch list" of things that can cause stress?  Having a plan to handle your grief is half the battle.  You're grieving, you don't need to be "fixed" but a little planning can go a long way.

~Don't give into the "it's what your spouse would have wanted" comments by possibly well-intentioned, but incorrect people.  I firmly believe that the best version of our spouses would want us to be healthy, happy and peaceful-and that means doing what is right for you.

~Consider your energy and sanity and your family's above all else.  Enough said.

~Create a balance in Your Activities.  If this is your first holiday season, you don't yet know how you will react.  Balance is your friend.  If you do have to decline an invitation because it is simply too much, then consider alternatives like:  getting together in a smaller group, getting together after the holidays or just proposing something different that fits you better.  Your friends and family want to support you, but they often don't know how.

~Decide What You Want to Do.  Our first holiday was hard.  I felt strongly I did not want to let the holiday go without celebrating, so I decided to the best extent possible, we would try and keep things on a slower, more relaxed pace of normal.  We modified some of our traditions.  Instead of putting up a tree ourselves, we invited another newly widowed family to join us.  It was low-risk for them because we "got it" and they were able to enjoy the holiday.    Instead of putting mistletoe up for my husband and I, I declared our house the "Mistletoe House" and invited all our married friends to visit and "find" the mistletoe.  Was it hard to have people over?  Less difficult than I thought it would be.  But that is my personality.  Others consciously "downshift" but what I want to encourage you here is to decide what is right for you.

~Have a plan…and a getaway plan  I teach my clients during the "Handling the Holidays" classes and webinars that you need a plan.  Your energy will be tested and triggered during the holidays by these events focused on happy, intact families, so try to decide what you can handle ahead of time.  Along with that, have a getaway plan.  Your getaway plan can be a quiet word to the host/hostess prior that you may need to step out unexpectedly, or to request if there is a quiet corner of the house to retreat to if you are staying with relatives.  Do the same for your children.

~Include Options in Your Plan.  You don't know what your energy level is going to be.  Include fallback options in your planning and adapt as necessary.  If you are planning to host a family gathering, decide if you want to prepare all the food yourself (done by you), if you want to co-host with another family member/delegate others to bring things (done with you), or order a meal and pick it up. (done for you).

Another widower client of mine decided the holidays were a time that he would celebrate outside his house, but keep his decorations to a minimum that first year.  It worked for him, because his house was a sanctuary and a refuge from the holidays.

~When Accepting an Event, Make Your Host(ess) Your Ally.  A little preparation here goes a long way.  You need to leave yourself an "out" if the grief hits hard, so accept as many invitations as you feel up to, but help them help you by saying something like, "Thank you for thinking of me.  I am sure it will be wonderful.  I am planning to come, but I could use your help.  I am sure it will be fine, but if the memories hit me hard, I may need to step out or leave.  I know I can count on your support if that happens.  Thank you for being on my team-and inviting me."

~Manage Your Media.  Ugh.  I don't know whether to laugh or cry, but our movies during the holidays are equal parts laughter and tears.  Death and separation figure prominently in many of them.  Especially during this time, it might be best to google the plots before you watch so you aren't caught off guard.  I recommend you have a holiday playlist on your phone so you aren't caught off-guard by "your holiday song" on the radio.

~Memorialize Your Beloved in Events and Around Your House.  In small and large ways, you can celebrate your beloved's life as part of your holidays.  They will be there anyway-so incorporate that love.  We ensured that every tree had an ornament in my husband's memory for our Christmas celebration, so we could look to that in every room and know he was there.  We provided some assistance to the local food bank to in his memory.  Another widower I know put his wife's pin in his pocket so she always went with him to holiday events that first year.

~Set Boundaries.  Oh, my.  I can (and do) teach entire courses on setting boundaries as a widowed person.  Ironically, when we don't want to talk about our beloved, at that exact moment, someone will interrogate us.  Then when we do want to talk, no one is around.  When the first situation happens and someone asks, "How are you really, my response is, "Thank you for asking about how I am doing.  For now, I just want to enjoy this event and I am happy to catch up later, perhaps over coffee?"

~Substitute with Giving Activities. Paradoxically, we can feel minimized during the grief process by our grief and the help we receive, because it can make us feel inadequate because we can't "handle" this challenge.  Giving of your time and talents can provide a wonderful boost during the holidays and help us to stay connected to the world.   During the first year my husband passed, we substituted our traditional Thanksgiving trip by spending it at an Adopt-A-Sailor event.  Volunteering at that event soothed our souls on what would have been, otherwise, a very difficult day and we have continued to support that event.

~Feel free to adapt as necessary. Give yourself permission to just "be" and change the plan to suit your needs.